Murder on The Orient Express
, one of Agatha Christie's most famous books, was first published in the January of 1934, and the glamorous setting makes it a great book to cheer you up post-Christmas, when winter stops being magical and starts feeling rather bleak. In light of this, I thought it might be a good time to talk about the Orient Express.
Generally speaking, I like trains. I'd even go as far as to say they were my favourite form of transport. I like the mechanical ticking, whirring noise they make and the feeling of escape you get watching the world rush by outside the windows.
But let's be honest with ourselves: trains are not what they once were. They are usually crowded and invariably smell of chips, and, if you're really unlucky, urine. They are never on time when you are, but, magically, they are always on time when you are late. Worse still, there is rarely anywhere to sit down, meaning you end up wedged underneath someones armpit in a corridor, feeling cheated at having paid £50 return for the privilege.
Every little part of me hopes that there will be a sudden return to classic train design. I long to jump on an ordinary train from Stroud to London, walk down the smart, wood-panelled corridor, slide back a compartment door and settle down onto a leather bench, reading an Agatha Christie. Sadly, I fear that this is never going to happen; the closest I will ever get to this experience will be to travel aboard the Orient Express.
The Orient Express trains are amazing, really
amazing
: impossibly glamorous, ornate and nostalgic
.
There are various trains dating from different periods, that run in different parts of the world, under the Orient Express umbrella. The most famous is probably the
Venice
Simplon-Orient Express
, but there are three UK trains: the
British Pullman
, the
Northern Belle
and the
Royal Scotsman
.
For those interested, the
British Pullman
does run murder-mystery events on board, which include a five-course meal (no doubt composed of minuscule, unimaginably pretty food) and, more importantly, half a bottle of wine. However, it is somewhat expensive: the price of a decent second-hand car, a Mulberry handbag or a week in a fairly down-at-heel hotel somewhere in the Med — too much to spend on one train journey... isn't it?
I doubt there will be a time when I can justify a ticket to travel on the Orient Express. On balance, this is probably a good thing: if I ever did, I would probably vomit with excitement, all over the luxurious mahogany fittings, which, I'm sure, is not what they expect from their patrons.
For the time being, I will have to be content with murder-mystery games set on trains. Now, it isn't the easiest thing to convey 'train' at a dinner party, and I still haven't quite worked out how to do it (if you have any ideas then I would love to hear them). The best I've come up so far is little lamps on white table-clothed tables, which looks pretty cosy, but not necessarily that much like a train!
Murder-mystery party games set on trains
A First Class Murder,
Paul Lamond Games
Last Train From Paris
, How to Host a Murder
Dead on Time
, Cheatwell Games
For inspiration
The most recent, somewhat controversial, dark and rather visually lovely ITV adaption of Murder on the Orient Express, with the wonderful David Suchet as Hercule Poirot. You can watch the trailer here.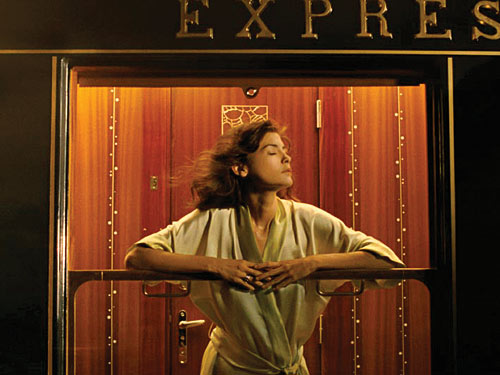 The romantically shot Chanel No 5 advert set aboard the Orient Express.
The old PC game The Last Express, isn't it beautiful? (see my previous post here if you are interested in this game).